Have you ever thought about visiting North Iceland, instead of the South, and wondered how to spend your time up there? As a team member of Iceland ProTravel, I have tested the best of the North, and want to share my highlights with you, to give you some inspiration for your next trip to Iceland.
I visited North Iceland in April, so if you want to do the same, in order to avoid bumping into huge groups of tourists, I can only recommend it. Instead of cold and stormy weather, I experienced sunny days and temperatures between 3 and 7 degrees Celsius. I travelled with a group of people and we started our trip with our tour leader on April 4th, 2019, flying with Icelandair to Keflavik and from there to Akureyri on a small airplane. After our arrival, we drove to the Lake Mývatn area, enjoyed a quick dinner, then packed up our bathing suits and went to the Mývatn Nature Baths. It was an incredible experience to be out in a hot spring that is naturally heated, enjoying a healthy bath, while looking into the sky, watching the stars, surrounded by steam that made me invisible to the few other guests hanging out there with us in the late evening.
Nature or geothermal baths, as the hot springs in Iceland are often referred to, contain lots of minerals that are good for your skin and make it soft and smooth, and they can also have a healing effect on you. Besides that, the water in the baths will be 36 – 40°C warm, so relaxation is ensured, especially when it's cold outside.
After we left the Mývatn Nature Baths, we met Anton, owner of Geo Travel, who went with us on a Northern Lights tour. And we got so lucky! Just a short drive away from our hotel, we stopped and watched the lights for about an hour! A truly unique and breathtaking experience. But be sure to layer up – as temperatures drop quickly after nightfall.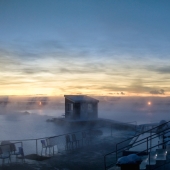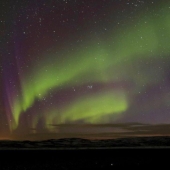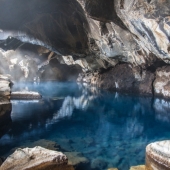 The next day we got up early and explored the Lake Mývatn area. The Mývatn area is especially known for its natural wonders. First, we stopped at Grjótagjá, a small cave, almost invisible from the outside if there wasn't steam coming out of it. In the past, it had been a much-loved bathing place for locals, as the water inside the cave is crystal clear and used to be perfectly warm. In fact, it is so clear that I didn't realize there was water at first and almost stepped inside! While visiting the cave, make sure you wear sturdy shoes, as the cave is wet and slippery. Today, you can't bathe in Grjótargjá anymore, as the temperatures went up to 46°C, due to geological activity between 1975 and 1984.
From Grjótargjá, we went to Dimmuborgir, a lava field near Lake Mývatn. Its name can be translated as "dark city". The many bizarre stone formations you can find here are said to be trolls, who celebrated until dawn. However, as soon as the first rays of sun broke through the clouds, the trolls turned to stone.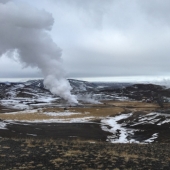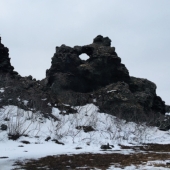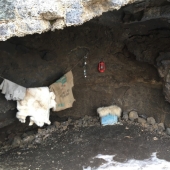 Dimmuborgir is also home to the famous Icelandic Yule Lads. While they rest during summer and stay away from people, you can spot them here, especially at Christmas time. The mysterious and exciting area was developed about 2,000 years ago. It has also been used as a filming location for the famous TV series Game of Thrones.
Our trip went on to Húsavik, where we had a fantastic lunch at the Salka Restaurant. After that, we went to our second natural spa, the Geosea – Geothermal Sea Baths. Geosea is very new and modern, and from there you have a fantastic view of the cold ocean while relaxing in the hot water, enjoying a drink of your choice that you can order while in the water. It is truly worth a visit, as the view from the infinity pool is priceless.
If you think that should have been enough fun for a day – be prepared for some more! We left Geosea and went on to visit the famous Goðafoss waterfall – the waterfall of the gods. Now that was a spectacular experience! I wanted to keep standing there forever, watching the water falling down in an infinite loop, listening to its thundering noise. The forces of nature simply overwhelmed me! The water comes from the river Skjálfandafljót and falls 12 meters deep, with over a width of 30 meters.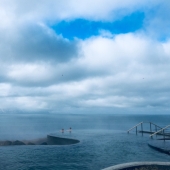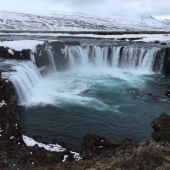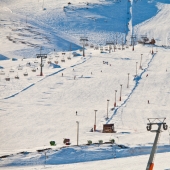 But as there was even more fun planned for the day, we went on to Akureyri, checked in at our hotel, changed into skiing gear, and drove to the Hlíðarfjall ski area. (Yes, we really did all this in one day!) After we had arrived, we were divided into groups, according to our skiing level. I enjoyed my time with other beginners and I am proud to say, I survived my first time skiing! At the end of the day, we had a delicious dinner at the Greifinn restaurant in Akureyri (you have to try the Béarnaise sauce there!), and all happily fell into our comfy beds afterward.
On our last day in Akureyri, we went on a whale-watching trip. And we weren't disappointed: after we sailed out on the ocean for over an hour, we saw a blue whale! That was very special and rare, as the last blue whale has been spotted there in February 2018. The weather was cold but sunny, so we got some nice pictures, although the boat was rocking quite heavily, and I got a little seasick.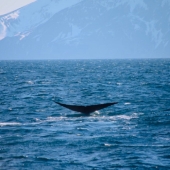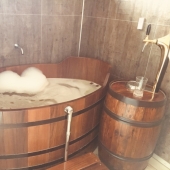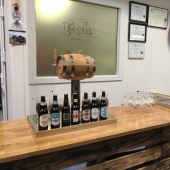 From there we went on to our second last incredible stop on our trip – The Beer Spa Bjórböðin and Bruggsmiðjan Kaldi Brewery – the first beer bath and microbrewery in Iceland. After a nice lunch at the spa restaurant, we were able to take a 25-minute long beer bath, while listening to relaxing music and enjoying a freshly drawn beer. The bathtubs are filled with 35°C warm young beer that doesn't contain alcohol, as well as water, hops, and yeast. The spa recommends not showering for a few hours after the bath, as the beer has a very positive effect on your skin and hair, and you won't smell like you partied too long, as it doesn't contain alcohol. After the bath (that is emptied automatically when the time is up), we went to a relaxation room, where we laid down for another 25 minutes before we had to leave that wonderful place.
After the bath, we went to the Kaldi microbrewery, just a few minutes away from the spa, learned about its phenomenal success in Iceland, and tried some of their best beers. Bruggsmidjan Kaldi was founded in 2006, it also contains a small shop, where you can buy shirts, beer glasses, beer bath salt, or shampoo, for example.
Before we went back to the airport, we made our last stop at the Strikid restaurant in Akureyri. The restaurant impressed us with its fancy menu, friendly staff, and a fantastic view of the harbour.
Of course, I would have loved to stay longer, but in the end, I am just really thankful for great experiences, nice weather, and lots of friendly people and fun! I can highly recommend visiting North Iceland in April, as it isn't too cold, you still have good chances to see Northern Lights and all the places that we visited weren't crowded at all. Just be sure to pack weatherproof clothes, sturdy shoes, a warm hat and scarf, gloves, and I recommend skiing underwear or alike, and you'll be good to go! To me, the whole trip was a highlight – the nature, spas, food, activities, and people – all made the time unique and wonderful. I am surely coming back!
---