Although the last season of Game of Thrones has probably been watched by all fans in no time, and the show has gained its legend status a while ago, there's an ongoing interest in visiting filming locations of what people call the best (fantasy) TV series of all time.
Many battles and even a famously romantic scene have been shot in Iceland, which is another great reason to visit the land of ice and fire. Due to the increased interest in Icelandic sights that have been part of GoT, Icelanders call the increase in visitor numbers the "Game of Thrones Effect."
Before we start and get into detail about what places are worth the visit, here's a list of all shooting locations (in alphabetical order), as there are too many, to talk about each of them in detail:
• Dimmuborgir
• Fjaðrárgljúfur Canyon
• Gjáin (Þjórsárdalur Valley)
• Grjótagjá
• Hengilssvæðið
• Höfðabrekkuheiði & Mýrdalsjökull Glacier
• Höfði
• Hverir
• Kirkjufell
• Reynisfjara Beach, near Vik
• Skógafoss
• Svínafellsjökull
• Þingvellir National Park
• Þjórsárdalur Valley
• Þórsmörk & Stakkholtsgjá
• Þórufoss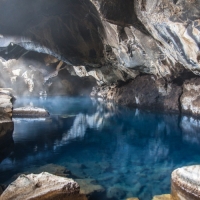 Not all of those places are easy to access, so we picked some for you that are not hard to find and are usually open to the public. So to get started we'll have a closer look at North Iceland, where one of the most romantic and well-known scenes of the series was filmed in Grjótagjá (s. 3, ep. 5 Kissed by Fire). Grjótagjá is a cave formed by lava, in which Jon Snow and his wildling girlfriend Ygritte take a bath. 
It should be said that only a small part of the scene was actually filmed in Grjótagjá, as the steam rising up from the hot water made it difficult to film. It is actually not allowed (and not very smart) to bathe in there anyway, as the temperature of the crystal clear water went up to 46°C, due to geological activity between 1975 and 1984. Until the 1970s Grjótagjá was a popular bathing site. In the early 18th century, the outlaw Jón Markússon lived in the cave and used it for bathing. If you want to visit it, it's easy to find and access, as there's a parking area right next to it. 
Some other great and famous scenes, featured in the show, are the ones that were shot in Dimmuborgir, a lava field near Lake Mývatn. Dimmuborgir can be translated as "dark city". One scene took place in season 3 when Mance Rayder and the wildlings set up their camp there. They filmed the scenes in winter when there was lots of snow, and the temperatures had dropped to -11°C.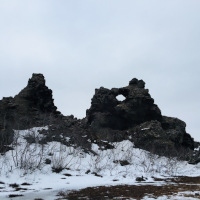 Another spot where the wildling camp was filmed up in the North is Höfði (still episode 3). It is also near Lake Mývatn and you can go there for a nice walk or hike (but don't forget to wear hiking boots or alike).
In episode 5 of the same season, Dimmuborgir became a battlefield, when Lord Commander Mormont and Sam Tarly were attacked by the White Walkers, and Ygritte steals Jon Snow's sword. It's definitely worth a visit, and in case you didn't know, the Icelandic version of Santa Claus, namely the Icelandic Yule Lads live in Dimmuborgir and can be seen during the wintertime. ;-) Besides that, the bizarre-looking stone formations are said to be trolls that turned to stone at sunrise, after they've had a celebration that lasted all night.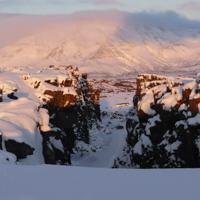 We're leaving the North now and continue with the West. One of the most recognizable places here that appeared in season 4 is the Thingvellir National Park, northeast of Reykjavik, Iceland's capital. It is part of the Golden Circle in Iceland, and surely a must-see when you visit Iceland. The impressive nature used as a setting for several different Game of Thrones scenes. One that you will easily recognize is the canyon near the Oxararfoss waterfall. It served as the location of the Bloody Gate in episode 5 of season 4 when Sansa Stark and Littlefinger (aka Petyr Baelish) enter the Bloody Gate (a castle at the western edge of the Vale of Arryn). Arya and the Hound enter it later in the same season as well. The canyon is easy to access, as there are parking spots near the Oxararfoss waterfall.
Last but not least, and also part of the Golden Circle is Skogafoss waterfall in South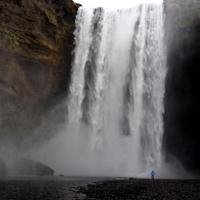 Iceland, another place you definitely need to visit, when in Iceland. The beautiful and impressive waterfall served as the perfect background setting for Daenerys Targaryen's dragons. It is shown in season 8, episode 1, when Daenerys and Jon ride the dragons across snowy and wintery landscapes and through a canyon, and land next to a stunning frozen and icy waterfall. However, it should be mentioned that in the series Skogafoss does not look exactly like it does in real life, although it does really freeze during the wintertime. It has digitally been modified in Game of Thrones for this specific episode, as well as the surroundings, to make it look even more impressive. But no matter if summer or winter time – Skogafoss is surely one of the prettiest waterfalls in Iceland.
So I hope you agree with us that Iceland was chosen wisely by the directors and served its purpose more than well. We think that there couldn't have been a better location for the Song of Ice and Fire as the land of ice and fire, and it doesn't come as a surprise that Iceland has been chosen as a filming location for numerous famous movies (like i.e. James Bond – Die Another Day) or even music videos (not to mention Justin Biber's – I'll Show You). So have fun exploring Iceland and its beauty, but don't forget to respect nature and treat the island with love!
Interested in a road trip through Iceland? Learn more.
---