Special offer
Volcanoes and Glaciers
Travel off the beaten tracks and discover the natural highlights of Iceland.
6 days / 5 nights

Special offer
Northern lights special
Explore Iceland this winter and the spectacular Northern Lights! BOOK NOW!
4 days / 3 nights
Blog
Leif the Lucky
How Leifur the Lucky discovered continental North America before Christopher Columbus.
read more
The Game of Thrones Effect
Are you a Game of Thrones fan. Come with us beyond the wall! Contact us for a Guided tour of the filming locations or a Self Drive package inspired by the popular TV series,
read more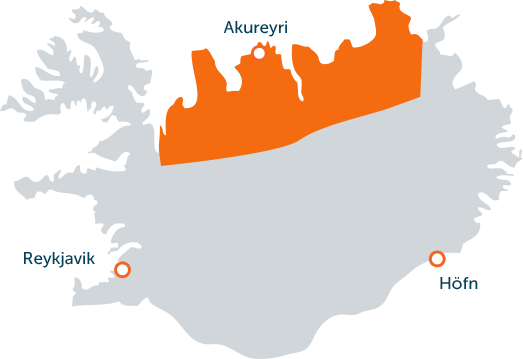 | | |
| --- | --- |
| Keflavík ? Reykjavík | 49 km / 30 miles |
| Reykjavík ? Borgarnes | 70 km / 43 miles |
| Borgarnes ? Stykkkishólmur | 96 km / 60 miles |
| Borgarnes ? Ísafjörður | 377 km / 234 miles |
| Borgarnes ? Blönduós | 168 km / 104 miles |
| Ísafjörður ? Blönduós | 411 km / 255 miles |
| Stykkishólmur ? Blönduós | 209 km / 130 miles |
| Blönduós ? Varmahlíð | 50 km / 31 miles |
| Varmahlið ? Akureyri | 93 km / 58 miles |
| Akureyri ? Mývatn | 92 km / 57 miles |
| Mývatn ? Egilsstaðir | 175 km / 109 miles |
| Egilsstaðir ? Höfn | 187 km / 116 miles |
| Höfn ? Kirkjubæjarklaustur | 204 km / 127 miles |
| Kirkjubæjarklaustur ? Vík | 68 km / 42 miles |
| Vík ? Hella | 93 km / 58 miles |
| Hella ? Selfoss | 37 km / 23 miles |
| Selfoss ? Reykjavík | 65 km / 40 miles |